Land records are an essential aspect of property ownership and management. They serve as legal proof of ownership, provide information about property boundaries, and facilitate property transactions. However, accessing and managing land records efficiently has often been a complex and time-consuming process. In an endeavor to simplify this process, the Government of West Bengal has launched an innovative online platform called Banglarbhumi. In this article, we will explore the features, benefits, and usage of Banglarbhumi, along with a step-by-step guide to accessing its services.
What is Banglarbhumi?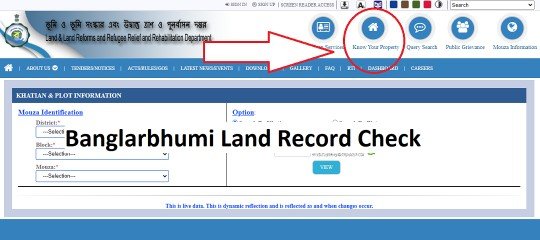 Banglarbhumi is an online portal developed by the Department of Land and Land Reforms, Government of West Bengal. It aims to provide easy access to land records and streamline various land-related services for the citizens of West Bengal. This digital initiative is part of the government's larger vision to digitize land records and promote transparency in land administration.
Features and Benefits of Banglarbhumi
Easy Access to Land Records
With Banglarbhumi, citizens can access land records from the comfort of their homes or offices. They no longer need to visit government offices or consult intermediaries to obtain information about land ownership, mutations, or property details. This accessibility saves time, effort, and resources for both the government and the citizens.
Online Land Mutation Process
The land mutation process, which involves updating ownership records when a property changes hands, can now be conveniently done through Banglarbhumi. Users can submit mutation applications online, eliminating the need for physical visits to government offices. This streamlined process ensures faster mutation updates and reduces the chances of fraudulent transactions.
Conversion of Land Use
Banglarbhumi also facilitates the conversion of land use. Users can apply online for changing the purpose for which a particular land is used. For example, agricultural land can be converted into residential or commercial land, subject to the regulations and guidelines set by the government. This feature promotes efficient land utilization and supports urbanization and industrialization.
Plot Information and Maps
The online portal provides detailed information about individual plots of land, including survey numbers, area measurements, and boundaries. Users can access maps to visualize the location and layout of the land. This information is invaluable for property owners, prospective buyers, and real estate developers, aiding in informed decision-making and accurate planning.
Grievance Redressal System
Banglarbhumi offers a robust grievance redressal system for users to report any issues or problems they encounter. Whether it be related to land records, mutation applications, or any other aspect of Banglarbhumi, users can file their grievances online. The system ensures that the complaints are addressed promptly, thereby improving transparency and accountability in the land administration process.
How to Access Banglarbhumi?
Online Portal
To access Banglarbhumi, users can visit the official website of the Department of Land and Land Reforms, Government of West Bengal. The online portal provides a user-friendly interface with various features and services related to land records.
Mobile App
Additionally, Banglarbhumi offers a mobile application for both Android and iOS devices. Users can download the app from the respective app stores and access land records, apply for mutations, check plot information, and avail other services on their smartphones or tablets.
Step-by-Step Guide to Using Banglarbhumi

Registration and Login
To begin using Banglarbhumi, users need to create an account on the portal. They can register by providing their personal details and creating a username and password. Once registered, users can log in to their accounts to access the services.
Searching for Land Records
After logging in, users can search for land records by providing relevant information such as plot number, district, block, and village. The portal will display the details of the land, including ownership records, survey numbers, and other relevant information.
Applying for Land Mutation
If a property ownership transfer has taken place, users can apply for land mutation through Banglarbhumi. They need to fill out the mutation application form, providing details of the previous and current owners, along with supporting documents. The online submission of the application simplifies the process and ensures quick updates in the land records.
Conversion of Land Use
To apply for the conversion of land use, users can select the appropriate option in the Banglarbhumi portal and fill out the necessary details. They need to provide information about the existing land use and the proposed new land use. The application will be processed by the concerned authorities, considering the relevant rules and regulations.
Checking Plot Information and Maps
Banglarbhumi allows users to view detailed information about individual plots of land. They can access maps that provide an accurate depiction of the land's location, boundaries, and neighboring landmarks. This feature helps users understand the spatial context of the land and its surroundings.
Filing Grievances
If users encounter any issues or have complaints regarding Banglarbhumi services, they can file grievances through the portal. They need to provide a description of the problem and any supporting documents if required. The grievance redressal system ensures that the concerns are addressed by the relevant authorities in a timely manner.
Impact and Significance of Banglarbhumi
The introduction of Banglarbhumi has had a significant impact on land administration in West Bengal. It has revolutionized the way land records are accessed and managed, bringing transparency, efficiency, and convenience to the process. By digitizing land records and enabling online services, Banglarbhumi has reduced the reliance on physical visits to government offices, minimizing bureaucratic hurdles and saving valuable time for citizens. The streamlined mutation and land-use conversion processes have contributed to faster and more accurate updates in land records, preventing fraudulent activities and ensuring the integrity of property transactions. The availability of detailed plot information and maps has empowered property owners, buyers, and developers with accurate data for decision-making and planning. Overall, Banglarbhumi has transformed the land records management system, making it more accessible, reliable, and citizen-centric.
FAQs
Can I access Banglarbhumi from any location?

Yes, Banglarbhumi is an online platform that can be accessed from anywhere with an internet connection.

Is the information provided on Banglarbhumi accurate?
Yes, the information provided on Banglarbhumi is sourced from official land records and is regularly updated. However, users are advised to cross-check the information with relevant authorities for complete accuracy.
Can I apply for land mutation online?

Yes, Banglarbhumi allows users to apply for land mutation online. The process is simplified, and users can submit their applications through the portal without the need for physical visits to government offices.

What are the charges for using Banglarbhumi services?

Currently, the usage of Banglarbhumi services is free of charge. Users can access land records, apply for mutations, and avail other services without incurring any fees.

How can I contact the Banglarbhumi support team?

Users can contact the Banglarbhumi support team through the official website or mobile app. The contact information, including email and phone numbers, will be provided on the portal for any assistance or queries.
Also, Read More: