Have you ever come across a video on a social media platform or streaming website that you wanted to save for offline viewing? If so, SaveFromNet is here to help! SaveFromNet is a powerful online tool that allows you to download videos from a variety of platforms and websites with ease. Whether it's a captivating YouTube video, an informative TED Talk, or a hilarious clip from Instagram, SaveFromNet has got you covered. In this article, we'll explore the features, benefits, and step-by-step usage of SaveFromNet, ensuring you become a master at downloading videos effortlessly.
How to Use SaveFromNet
Downloading videos with SaveFromNet is as simple as 1-2-3! Follow these easy steps to unlock the world of offline video content:
Find the Video: Begin by locating the video you wish to download. It can be from platforms like YouTube, Facebook, Instagram, Vimeo, Dailymotion, and many more.
Copy the Video URL: Once you've found the desired video, copy its URL from the address bar of your browser.
Paste and Download: Visit the SaveFromNet website (www.savefromnet.com) and paste the video URL into the provided input field. Click the "Download" button, and voila! SaveFromNet will fetch the video and present you with various download options.
Supported Platforms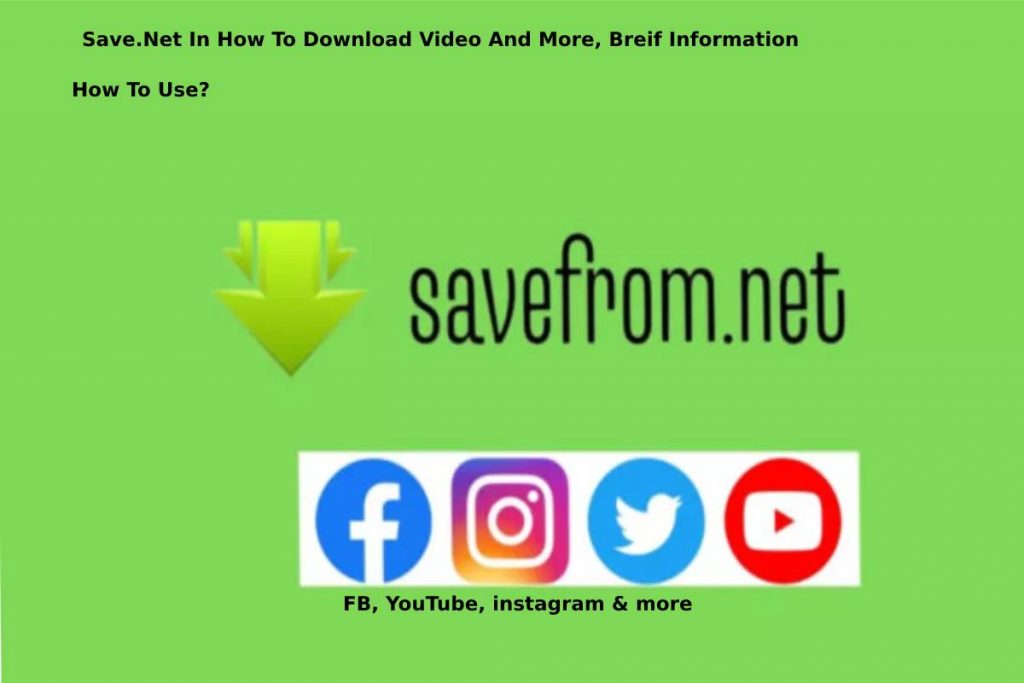 SaveFromNet supports a wide range of platforms and websites, making it a versatile tool for all your video downloading needs. Some popular platforms compatible with SaveFromNet include:
YouTube
Instagram
Vimeo
Dailymotion
SoundCloud
TikTok
and many more!
No matter where your favorite videos reside, SaveFromNet will help you save them to your device effortlessly.
Formats and Quality Options
SaveFromNet offers flexibility when it comes to video formats and quality options. After pasting the video URL on the SaveFromNet website, you'll be presented with a variety of formats to choose from, including MP4, WebM, FLV, and more. Additionally, you can select the desired video quality, ranging from standard definition to high definition, ensuring you get the best viewing experience possible.
Downloading Audio Only
Sometimes you might only be interested in the audio component of a video, such as a podcast or a music track. SaveFromNet has a solution for that too! By utilizing SaveFromNet's features, you can extract the audio from any video and save it as an MP3 file. This way, you can create your own personalized audio library without the need for additional software.
Browser Extensions
SaveFromNet provides browser extensions for popular web browsers like Chrome, Firefox, and Safari. These extensions integrate seamlessly into your browser, allowing you to download videos directly from supported platforms with just a single click. With the browser extensions, the process becomes even more streamlined, enhancing your video downloading experience.
Privacy and Security
At SaveFromNet, your privacy and security are of utmost importance. The platform employs robust security measures to ensure the safety of its users. When you download a video using SaveFromNet, rest assured that your personal information remains confidential, and your browsing history stays private. SaveFromNet is committed to protecting your data while providing an excellent video-downloading service.
Alternatives to SaveFromNet
While SaveFromNet is an excellent video-downloading tool, it's always good to have alternatives. Some popular alternatives to SaveFromNet include:
KeepVid
Video DownloadHelper
4K Video Downloader
Y2mate
Clip Converter
Exploring these alternatives can provide you with different options, features, and user experiences to meet your specific video-downloading requirements.
Pros and Cons
Like any tool, SaveFromNet has its share of advantages and disadvantages. Let's take a look at what makes SaveFromNet a fantastic choice for video downloading, as well as some aspects to consider:
Pros:
Ease of Use: SaveFromNet's user-friendly interface makes video downloading a breeze, even for beginners.
Wide Platform Support: SaveFromNet works seamlessly with numerous platforms, ensuring you can download videos from your preferred sources.
Format and Quality Options: The ability to choose from various video formats and quality options provides customization and versatility.
Audio Extraction: SaveFromNet allows you to extract audio from videos, expanding its functionality beyond video downloading.
Browser Extensions: The browser extensions make video downloading even more convenient by integrating directly into your browser.
Cons:
Reliance on Internet Connection: SaveFromNet requires an active internet connection to download videos, limiting offline usage.
Legal Considerations: Ensure you comply with copyright laws and respect the content creators' rights when using SaveFromNet or similar tools.
Considering both the pros and cons will help you make an informed decision about whether SaveFromNet is the right video downloading-tool for you.
Frequently Asked Questions
Q1: Is SaveFromNet free to use? A1: Yes, SaveFromNet is absolutely free to use. You can start downloading videos right away without any subscription or payment.
Q2: Are there any limitations on the number of videos I can download? A2: SaveFromNet does not impose any limitations on the number of videos you can download. You can enjoy unlimited video downloads without any hassle.
Q3: Can I use SaveFromNet on mobile devices? A3: Yes, SaveFromNet is compatible with mobile devices. You can visit the SaveFromNet website using your mobile browser and download videos on the go.
Q4: Does SaveFromNet work on all operating systems? A4: SaveFromNet is a web-based service that works on all major operating systems, including Windows, macOS, and Linux.
Q5: Is SaveFromNet safe to use? A5: SaveFromNet prioritizes user privacy and employs security measures to ensure a safe browsing experience. However, always exercise caution when downloading videos from the internet.
Conclusion
SaveFromNet is an invaluable tool for video enthusiasts who wish to enjoy their favorite content offline. With its easy-to-use interface, wide platform support, and customizable options, SaveFromNet simplifies the process of downloading videos from various sources. Whether you want to save a video for educational purposes, entertainment, or simply for offline convenience, SaveFromNet has you covered. Explore the vast world of online videos and create your personal collection with the help of SaveFromNet.
Also, Read More: