The digital age has revolutionized the way we consume media, with videos being a prominent form of entertainment, education, and communication. However, sometimes we find ourselves in situations where we want to access these videos offline or save them for later use. This is where Snaptube, a powerful video-downloading app, comes to the rescue. With Snaptube, you can effortlessly download videos from various platforms and enjoy them at your convenience, without any hassle.
What is Snaptube?
Snaptube is a versatile app that allows users to download videos from numerous platforms and websites. Whether you want to save a music video, a tutorial, a movie clip, or any other video content, Snaptube simplifies the process by providing a user-friendly interface and seamless downloading capabilities. It supports popular platforms like YouTube, Instagram, Facebook, TikTok, Vimeo, and many more, ensuring you can access your favorite videos from a wide range of sources.
Features of Snaptube
Video and Audio Downloading Capabilities
Snaptube's primary feature is its ability to download videos and extract audio files. It supports a variety of formats, including MP4, WebM, and 3GP, allowing you to choose the most suitable format for your device or preferences. Moreover, you can also download audio tracks from videos in MP3 format, enabling you to create personalized playlists or listen to your favorite songs offline.
Support for Multiple Platforms and Websites
One of Snaptube's strengths is its extensive compatibility with different platforms and websites. Whether you're browsing YouTube for music videos or exploring Instagram for entertaining content, Snaptube seamlessly integrates with these platforms, making it easier than ever to save the videos you love.
Conversion of Media Files
In addition to downloading videos and audio files, Snaptube offers a convenient file conversion feature. This allows you to convert media files to different formats directly within the app, eliminating the need for additional software or online converters. Whether you want to save storage space or ensure compatibility with specific devices, Snaptube has got you covered.
Customizable Download Settings
Snaptube provides users with the flexibility to customize their download settings according to their preferences. You can specify the quality of the video or audio files you want to download, choosing from a range of options to suit your needs. Additionally, Snaptube offers the ability to download videos in different resolutions, ensuring an optimal viewing experience while conserving data usage.
How to Use Snaptube?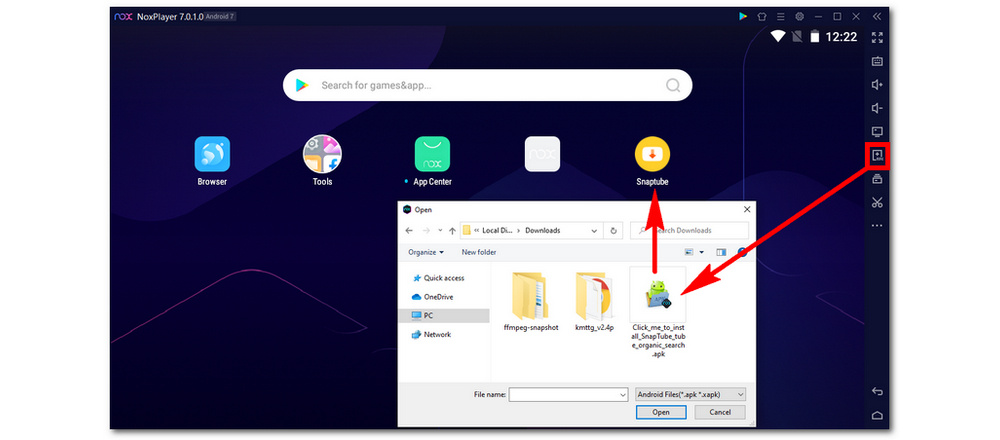 Getting started with Snaptube is a breeze. Follow these simple steps to start downloading your favorite videos:
Download and Install Snaptube: Visit the official Snaptube website or trusted app stores to download the app. Once downloaded, install it on your device by following the on-screen instructions.
Launch Snaptube: Open the Snaptube app and explore the supported platforms by tapping on their respective icons or using the search bar to find specific videos.
Search for a Video: Enter keywords or the title of the video you want to download. Snaptube will display relevant search results from the supported platforms.
Choose the Video: Browse through the search results and select the video you wish to download. You can preview the video before proceeding.
Download the Video: Tap on the download button located below the video. Select the desired format and quality, then confirm the download. Snaptube will begin downloading the video, and you can track the progress in the downloads section.
Access Downloaded Videos: Once the download is complete, you can access your downloaded videos in the Snaptube app's library or your device's gallery, depending on your settings.
Benefits of Snaptube
Snaptube offers a range of benefits that enhance your video viewing experience:
Offline Access to Videos and Music: By downloading videos with Snaptube, you can enjoy them offline anytime, anywhere, without relying on an internet connection.
Saving Data and Avoiding Buffering: Downloading videos through Snaptube allows you to save data on repetitive streaming and eliminate buffering issues, providing a seamless playback experience.
Convenience and Flexibility: Snaptube empowers you to curate your own collection of videos and music, making it easier to organize and access your favorite content.
Is Snaptube Legal and Safe?
Snaptube itself is a legal app that provides a platform for downloading videos from various sources. However, it's essential to note that downloading copyrighted content without the owner's permission is illegal. Therefore, it's crucial to use Snaptube responsibly and respect intellectual property rights.
Regarding safety, Snaptube is designed to prioritize user security and privacy. The app goes through regular security checks and employs robust encryption protocols to ensure the safety of its users' data. Nevertheless, it's always recommended to download Snaptube from trusted sources to avoid potential security risks.
Snaptube Alternatives
While Snaptube offers an excellent video downloading experience, there are other alternatives available in the market. Some notable alternatives to consider include:
Videoder
TubeMate
VidMate
KeepVid
Each of these alternatives has its own unique features and user experiences, so it's worth exploring them to find the one that best suits your preferences and requirements.
Frequently Asked Questions (FAQs)
1. Can Snaptube download videos from YouTube?
Yes, Snaptube supports downloading videos from YouTube. It allows you to save your favorite YouTube videos for offline viewing.
2. Is Snaptube available for iOS devices?
Currently, Snaptube is only available for Android devices. Unfortunately, an official version for iOS devices is not yet available.
3. Can Snaptube download videos in high definition?
Yes, Snaptube supports downloading videos in high definition, including formats like 1080p and 4K, if available for the specific video.
4. How does Snaptube generate revenue?
Snaptube generates revenue through non-intrusive advertisements displayed within the app. These ads help support the development and maintenance of the application.
5. Is Snaptube free to use?
Yes, Snaptube is a free app. You can download and use it without any charges or subscription fees.
Conclusion
Snaptube simplifies the process of downloading videos from various platforms, granting you the freedom to enjoy your favorite content offline. With its user-friendly interface, extensive compatibility, and customizable settings, Snaptube provides a convenient solution for video enthusiasts. So why wait? Experience the benefits of Snaptube and gain access to your favorite videos with ease.
Also, Read More: