Introduction
Vel Tech is a renowned educational institution dedicated to providing quality education and fostering innovation among students. With its commitment to excellence, Vel Tech has established itself as a leading institution in India, offering a diverse range of academic programs and creating a conducive learning environment.
History and Background
Established in the year 1997, Vel Tech has a rich history rooted in the pursuit of knowledge and academic excellence. It was founded by Dr. R. Rangarajan and Dr. Sagunthala Rangarajan, visionaries who aimed to revolutionize education and make a positive impact on society.
Vision and Mission of Vel Tech
Vel Tech aims to impart quality education that nurtures creativity, innovation, and critical thinking skills in students. The institution's mission is to produce competent professionals who contribute to societal development and address global challenges through research and innovation.
Academic Programs Offered
Vel Tech offers a wide array of academic programs that cater to various disciplines and career paths. The institution provides undergraduate programs, postgraduate programs, and research programs to meet the diverse needs of students.
Undergraduate Programs: Vel Tech offers bachelor's degree programs in fields such as engineering, management, arts, and sciences. These programs are designed to provide a strong foundation and practical skills for students to excel in their chosen fields.
Postgraduate Programs: The institution offers master's degree programs in engineering, management, computer applications, and more. These programs enable students to specialize in their areas of interest and gain advanced knowledge in their respective domains.
Research Programs: Vel Tech encourages research and innovation through its doctoral programs. Students have the opportunity to work closely with experienced faculty members on cutting-edge research projects and contribute to the advancement of knowledge.
Infrastructure and Facilities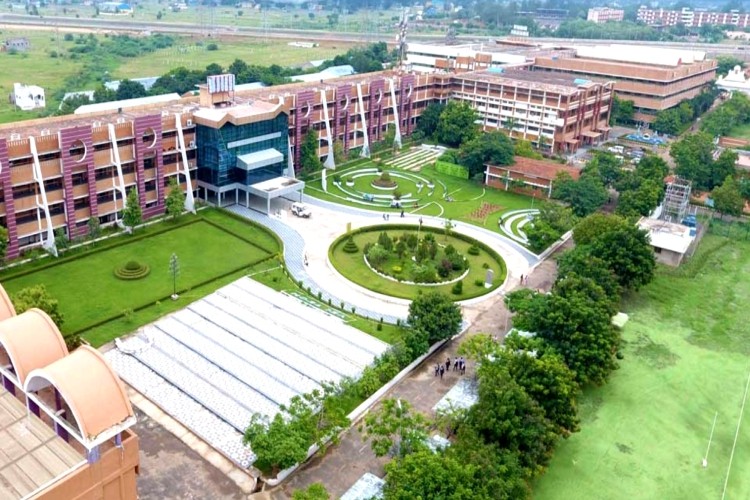 Vel Tech boasts state-of-the-art infrastructure and world-class facilities to create an optimal learning environment for its students. The institution continuously invests in infrastructure development to provide modern amenities and resources.
Campus Facilities: The sprawling campus of Vel Tech is equipped with modern classrooms, auditoriums, and seminar halls that facilitate interactive learning and academic events. The campus also offers Wi-Fi connectivity, ensuring access to online resources and research databases.
Libraries and Laboratories: The institution houses well-stocked libraries with an extensive collection of books, journals, and digital resources. Additionally, Vel Tech has advanced laboratories and research centers that provide hands-on learning opportunities to students.
Sports and Recreation: Vel Tech recognizes the importance of holistic development and offers sports and recreational facilities to promote a healthy lifestyle among students. The campus includes sports fields, gyms, and indoor game facilities.
Faculty and Research
Vel Tech takes pride in its highly qualified and experienced faculty members who are experts in their respective fields. The institution fosters a culture of research and encourages faculty members to engage in cutting-edge research initiatives.
Expert Faculty Members: Vel Tech's faculty members are passionate educators and mentors who bring industry experience and academic expertise to the classroom. They guide students in their academic pursuits and nurture their research interests.
Research Initiatives: The institution actively promotes research across various disciplines. Faculty members and students collaborate on research projects, leading to publications in renowned journals and presentations at national and international conferences.
Collaborations and Partnerships: Vel Tech believes in the power of collaborations to drive innovation. The institution collaborates with leading industries, research organizations, and academic institutions to enhance research opportunities and knowledge exchange.
Industry Connections and Placements
Vel Tech emphasizes the importance of industry connections and practical exposure for students. The institution maintains strong ties with industries and offers various avenues for internships, placements, and career support.
Industry Tie-ups: Vel Tech has established strategic partnerships with renowned industries, enabling students to gain exposure to real-world challenges and industry practices. These collaborations also facilitate guest lectures, workshops, and industrial visits.
Internship Opportunities: The institution provides internship opportunities that allow students to apply their theoretical knowledge in practical settings. Internships help students gain industry experience, develop essential skills, and build professional networks.
Placements and Career Support: Vel Tech has a dedicated placement cell that assists students in securing job placements. The institution organizes placement drives, recruitment fairs, and grooming sessions to prepare students for successful careers.
Student Life at Vel Tech
Vel Tech offers a vibrant and inclusive campus life that goes beyond academics. The institution encourages students to participate in various clubs, organizations, and cultural activities to foster personal growth and holistic development.
Clubs and Student Organizations: Vel Tech hosts a wide range of student clubs and organizations that cater to diverse interests, including technical clubs, cultural clubs, social service clubs, and entrepreneurship clubs. These clubs provide platforms for students to showcase their talents and pursue their passions.
Cultural and Extracurricular Activities: The institution organizes cultural festivals, sports events, and talent shows, providing students with opportunities to exhibit their skills and engage in healthy competition. Such activities contribute to the overall personality development of students.
Student Support Services: Vel Tech prioritizes the well-being and academic success of its students. The institution offers counseling services, mentorship programs, and academic support systems to ensure students' holistic development and address their individual needs.
Global Engagements and International Programs
Vel Tech believes in fostering global perspectives and offers various international programs and engagements for students. These initiatives provide students with opportunities to explore different cultures, gain international exposure, and broaden their horizons.
International Collaborations: Vel Tech has collaborations with renowned international institutions, facilitating student and faculty exchanges, joint research projects, and knowledge-sharing programs. These collaborations enhance the learning experience and promote global connectivity.
Study Abroad Programs: The institution offers study abroad programs that allow students to spend a semester or a year at partner universities. Study abroad programs provide students with a global learning experience and help them develop a global mindset.
Exchange Opportunities: Vel Tech encourages students to participate in exchange programs, where they can study at partner institutions in different countries. These programs promote cultural exchange, academic enrichment, and the development of cross-cultural skills.
Achievements and Recognition
Vel Tech's commitment to excellence and innovation has earned it numerous accolades and recognition in the field of education. The institution's achievements and partnerships validate its position as a leading educational institution.
Awards and Accolades: Vel Tech has received prestigious awards and accolades for its academic programs, research contributions, and industry collaborations. These accolades reflect the institution's commitment to quality education and innovation.
Research Publications: Faculty members and students at Vel Tech have made significant research contributions, resulting in publications in reputed journals. The institution encourages and supports research endeavors that contribute to the advancement of knowledge.
Industry Partnerships: Vel Tech's collaborations with industries and organizations have resulted in successful projects, internships, and placements for students. These partnerships enhance the relevance of education and promote industry-academia interaction.
Alumni Network and Success Stories
Vel Tech takes pride in its alumni network, comprising successful professionals who have made a mark in their respective fields. The institution maintains strong connections with its alumni and celebrates their achievements.
Notable Alumni: Vel Tech's alumni have achieved notable positions in industries, academia, research, entrepreneurship, and public service. They serve as inspirations to current students and contribute to the institution's reputation.
Alumni Events and Networking: Vel Tech organizes alumni events, reunions, and networking sessions to foster connections among alumni and provide opportunities for knowledge exchange and collaboration.
Alumni Contributions and Achievements: Many alumni of Vel Tech have made significant contributions to their fields and society. Their achievements showcase the institution's commitment to nurturing excellence and empowering individuals to make a positive impact.
Social Responsibility and Outreach
Vel Tech is committed to social responsibility and actively engages in community outreach initiatives. The institution encourages students and faculty members to contribute to the betterment of society through various programs.
CSR Initiatives: Vel Tech conducts corporate social responsibility (CSR) initiatives that focus on uplifting underprivileged communities, promoting environmental sustainability, and supporting social causes. These initiatives instill a sense of social responsibility in students.
Community Engagements: The institution actively engages with nearby communities through programs such as awareness campaigns, health camps, skill development workshops, and educational initiatives. This engagement promotes community welfare and social upliftment.
Social Impact Projects: Vel Tech encourages students to undertake social impact projects that address societal challenges and provide sustainable solutions. Such projects allow students to apply their knowledge and skills to create a positive impact on society.
Future Growth and Expansion Plans
Vel Tech is committed to continuous growth and development. The institution has strategic plans in place to enhance its infrastructure, introduce new programs, and integrate technology to provide a cutting-edge learning experience.
Campus Development Projects: Vel Tech has ongoing campus development projects aimed at expanding infrastructure, creating modern learning spaces, and incorporating eco-friendly practices. These projects ensure that students have access to world-class facilities.
New Programs and Initiatives: The institution keeps pace with emerging trends and industry demands by introducing new programs and courses. This ensures that students receive education aligned with the latest developments in their respective fields.
Technology Integration: Vel Tech recognizes the importance of technology in education and strives to integrate technological advancements into its teaching methodologies. The institution adopts innovative learning tools and platforms to enhance the learning experience and equip students with digital skills.
Conclusion
Vel Tech stands as a beacon of excellence in education, fostering innovation, and empowering students to reach their full potential. With its diverse academic programs, state-of-the-art infrastructure, dedicated faculty, industry connections, and commitment to social responsibility, Vel Tech continues to shape the future of education and produce well-rounded professionals ready to make a difference in the world.
Frequently Asked Questions (FAQs)
1. Is Vel Tech a recognized institution?
Vel Tech is a recognized institution and has received various awards and accolades for its academic programs and research contributions.
2. What programs does Vel Tech offer?
Vel Tech offers a wide range of programs, including undergraduate, postgraduate, and research programs in fields such as engineering, management, arts, and sciences.
3. Does Vel Tech have industry connections?
Yes, Vel Tech has strong industry connections and collaborations with leading companies, which provide students with internship opportunities, placements, and exposure to industry practices.
4. What kind of facilities does Vel Tech provide to students?
Vel Tech provides state-of-the-art facilities, including modern classrooms, libraries, laboratories, sports fields, and recreational amenities, ensuring a conducive learning environment for students.
5. How does Vel Tech support the overall development of students?
Vel Tech supports the overall development of students through student support services, extracurricular activities, cultural events, and mentorship programs that focus on their personal growth and well-being.
Also, Read More: